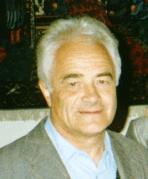 YAKUBOVICH Vladimir Andreevich
Born Oct.21, 1926 in Novosibirsk, USSR.
Graduated from Mechanics and Mathematics Faculty of Moscow State University in1949; Ph.D in 1953; Doctor of Science in 1959.

Professional Experience:
1949-1953 Leningrad, Scientific Institute, engineer
1953-1956 Assistant Professor, Leningrad Mining Industry Institute
1956-1961 Assistant Professor, Associate Professor, Leningrad University
1961 Head of Theoretical Cybernetics Laboratory, 1963 - Professor.

Present Position:
Head of Theoretical Cybernetics Chair,
Professor at the Mathematics and Mechanics Faculty of St. Petersburg State University.
Corresponding member of the Russian Academy of Sciences (former Acad. Sci. USSR),
Member of Academy of Natural Sciences of the Russian Federation.

Areas of interest: differential equations, stability, oscillations, adaptive and optimal control theory.

Committees, membership:
Member of Moscow and St.Petersburg Mathematical Societies,
Member of the Board of St.Petersburg Informatics and Control Society;
Member of management board of Russian Scientific Society "Control systems and Processes";
Member of IEEE;
Associate Editor "Siberian Mathematical Journal" (1978-1988);
Associate Editor "Systems and Control Letters" (1981-1988);
Associate Editor "Dynamics and Control" (since 1990).

Visits: University of California, San Diego (1989); University of Southern California, Los Angeles (1989); University of California, Santa Barbara (1989); University of California, Berkeley (1989); University of Pittsburgh (1990); Royal Institute of Technology, Stockholm, (1992,1996,1997, 1998,1999) University of Roma (1995); Technological University of Compiegne (1995) University of Newcastle (1994); University of Kobe (1996); University of Keio (1996); Slovak Technical University, Bratislava (1997); Lund Technical University, Lund, Sweden (1997); Tokyo University (1998), Tokyo Institute of Technology (1998).

Publications: 7 books, more then 270 journal and conference papers.
Books:
1. Linear Differential Equations with Periodic Coefficients and their applications (coauthor V.M.Starzhinskii). Nauka, Moscow, 1972. (in Russian)
2. Linear Differential Equations with Periodic Coefficients. v.1,2 (coauthor V.M.Starzhinskii). John Wiley & Sons, Yerusalim-London, 1975.
3. Stability of Nonlinear Systems with Nonunique Equilibrium State (coauthors: A.Kh.Gelig and G.A.Leonov). Nauka, Moscow, 1978. (in Russian)
4. Adaptive Control of Dynamics Plants (coauthors: V.N.Fomin and A.L.Fradkov). Nauka, Moscow, 1981. (in Russian)
5. Parametric Resonance in Linear Systems (coauthor V.M.Starzhinskii). Nauka, Moscow, 1987. (in Russian)
6. Abstract Theory of Optimal Control (coauthor A.S.Matveev). St.Petersb. State University, St.Petersburg, 1994. (in Russian)
Awards:
Prize of Leningrad University for pedagogic skill (1986)
Norbert Wiener Prize for achievements in cybernetics (1991)
Prize of International Academic Publishing Company "Nauka" for prominent publication (1995)
IEEE Control Systems Award for pioneering and fundamental contributions to stability analysis and optimal control (1996)
Prize of St.Petersburg University for a series works on optimal control (1998).

---